Protect your Home
How It Works
Roof Saver Sprinklers® are made in the USA. The patented sprinklers thoroughly wet roofs, gutters, decks, surrounding trees, and shrubs making these fuels less susceptible to ignition. Don't stand on your roof with a hose! Turn your sprinklers on. Get your family safe. Prepare to evacuate.
We value our Customers
We have been in business for over 14 years! Free estimates for your system! Email us at info@RoofSaverSprinklers.com and include your address. We can look on Google Earth and customize your Wildfire Sprinkler System. This will include everything you need to install Roof Saver Sprinklers. You get what you pay for. We have no plastic parts! Our sprinklers are streamlined for low visibility. Our high-quality products last.
Our customers can reach us at info@RoofSaverSprinklers.com or 530-367-3397 for additional support. Our Canadian customers can order directly from the website or give us a call. We use Border Buddies to ship to Canada. All taxes, duties and fees are included in the shipping cost.
See the Products page to view the right product for you! Check our Buyers Guide page for typical installations.
End of the season sale! Buy one sprinkler, we will include a free hose holder with each sprinkler order! A $49.00 savings! FREE SHIPPING IN THE CONTINENTAL US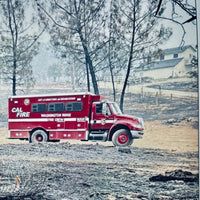 Recent Testimonials
We were forced to evacuate our ranch and load up our horses, cat and a few items. Our Roof Saver Sprinklers were running as we drove off. When we returned, we saw that our house and barn were still standing amidst the devastation of the fire. Our neighbor lost his home and his shop, and all we lost was some fencing and our woodshed. We spoke to the Cal Fire team parked in our driveway. I was told that the Roof Saver Sprinklers on our barn and house were 100% responsible for saving our property!!! Later, other Cal Fire trucks came up our driveway, to tell us that because of the sprinklers we were defensible space and they made sure to protect us as best as they could.
Thank you Tim for producing us with such a life saving product! We will forever be grateful for having installed Roof Saver Sprinklers on our barn and house!
Lisa and Lucie, Northern California
Built To Last
Made in the U.S.A. Patented!
-All steel welded construction. No plastic parts! No legs to assemble.
-Brass fittings
-Brass impulse sprinkler
-Measures approximately 20" x 18" x 10"
-Weighs approximately 5 pounds
-Covers an 80' circle
-Adjusts to most any roof pitch.
-Foam feet to grip roof
-Low Profile for low visibility and no issue in high winds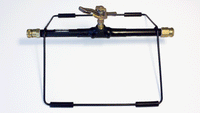 What Customers Are Saying
"I just placed the sprinklers on my roof and it was so easy. These are well made, easy to install and so economical. Everyone should have these beauties on their roof."

Claudia C.
"We just had time to turn on our Roof Saver Sprinklers as we were evacuated!  When we could return to our home days later, our sprinklers were still running and our house was still standing!  Sadly, some of our neighbors were not so lucky. Thank you Roof Saver Sprinklers!"

John M.
This product is the cheapest, easiest and smartest solution! It's a no brainer and the best product on the market.

Craig W. -Canada
We were forced to evacuate our ranch due the River Fire in Northern Ca. As we left, we turned on our Roof Saver Sprinklers. Upon return, we saw our neighbor had lost his home. Our home and barn were untouched. Cal Fire said that the Roof Saver Sprinklers saved our property!

Lisa and Lucie
Protect your home from flying embers
Our best choice for a small house, garage or shop up to 800 sq ft. $346.00 See our product page for additional choices.