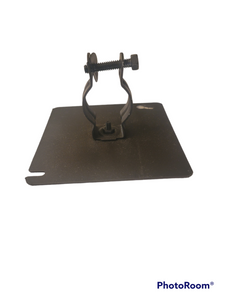 These brackets are for a more permanent hose attachment to the roof. 
Our standard Ridgeline hose holders are designed as a temporary hose holding device that sits on the ridge of the roof.
Many customers choose to leave their sprinkler systems on the roof year-round. Our new Roof Hose Brackets will hold the hose in place without moving.
The roof hose brackets slip partially under a shingle and with the supplied roof adhesive stay in place. These hose brackets will hold the hose along the ridge between sprinklers to keep the hose straight for a clean installation. They can also be used to transition the hose from the ridgeline down the roof to the hose connection.
These hose brackets are barely visible but hold the hose firmly in place not only on the ridgeline, but anywhere on the roof with shingles. They will work with composition, tile or shake shingles. 
Included in the Roof Hose Bracket kit: 
6- 4 1/4" x 4 1/4" x 2 1/2" Galvanized Steel Roof Hose brackets
1-2.5 oz Roof Adhesive